Austin Muay Thai and Boxing Classes
BURN CALORIES, MELT FAT, GET FIT, HAVE FUN, THAT'S WHAT OUR CLASSES ARE ALL ABOUT!
Looking to relieve some stress all while getting into amazing shape? Then try our Muay Thai kickboxing class at Vasquez Academy! We guarantee to provide you with a high-intensity, challenging, and fun workout, to take your fitness goals to the next level! All ages and fitness levels are encouraged to enroll, because anyone can succeed at Muay Thai Kickboxing!
Boxing has been around forever, and the athletes are in amazing shape! Muay Thai Kickboxing is Boxing with the addition of kicks, knees and elbow strikes! These classes are great for conditioning and self-defense! At Vasquez Academy in Austin, we want to help you not only reach your goals, but exceed them! Whether you want to fight as a pro or simply want to lose weight, Muay Thai Kickboxing can offer everyone something great!
Muay Thai Kickboxing in Austin is Second to None
At Vasquez Academy, we are a tight knit community who keeps each other accountable and motivated from day one. Our main goal is to see you succeed on and off the mat, and we will do anything to see that happen. We are a family-oriented business who welcomes everyone!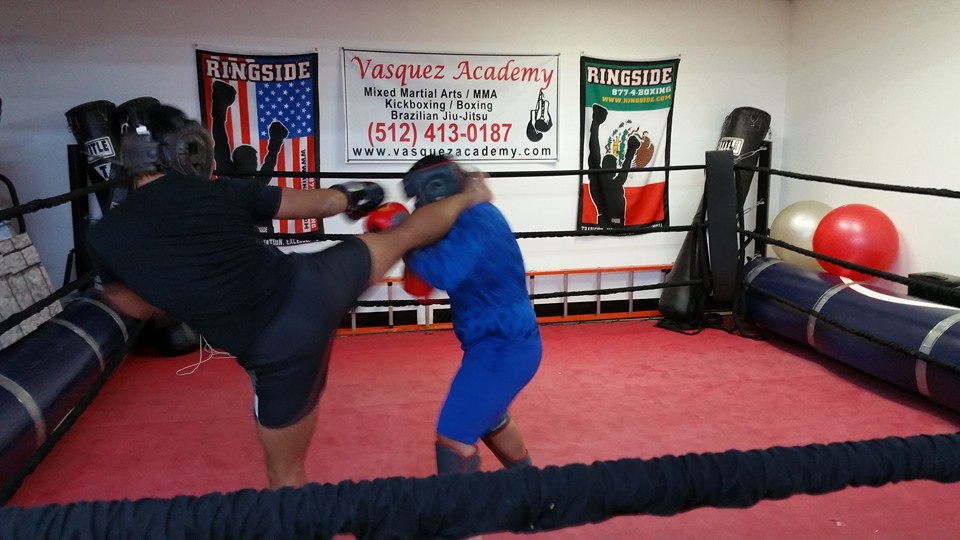 Still not convinced? Check out all the benefits you will experience after just a few short classes!
Weight loss and toned muscles
Increase in self-confidence
Self-defense skills that will last you a lifetime
A sense of community and accountability
And so much more!
Sign Up Today!
Signing up is the easiest part! All you have to do is fill out the short form on the right side of this page and we will take care of the rest! We look forward to hearing from you soon.
Austin's only state of the art Mixed Martial Arts Facility